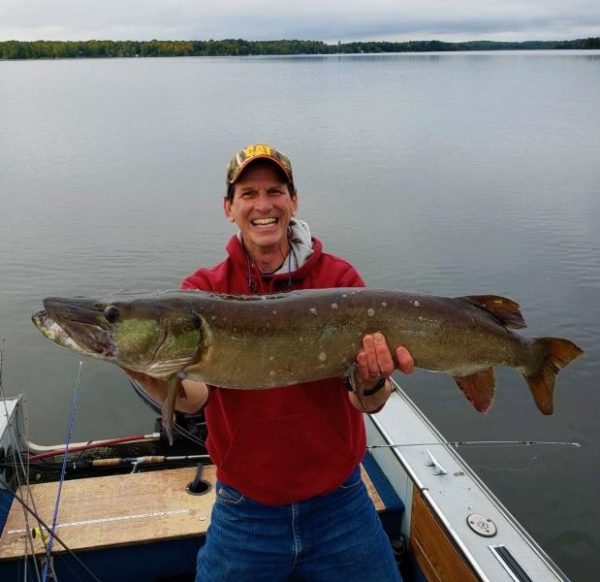 Ten days ago I went fishing in northern Wisconsin with my son Elijah. He is just starting college and I wanted one last trip with him before the weather turned. On the first cast of the day I caught a 44" musky, the fish of 10,000 casts. What are the odds? Perhaps 1 in 10,000. How did I do it? Pure luck? Not exactly. I had an amazing team behind me.

We were planning to fish deep, clear glacial lakes and I knew just enough about these kind of lakes to know it would be tough going. So, I asked Davey, a friendly fellow from Omaha who is a serious tournament fisherman. He recommended four lures, for bass and crappie, and he even drew pictures of each one. I went off that night to buy them at the local Bass Pro Shop. They only had one lure that was exactly what he recommended. All the rest were either a 1/16th of an ounce off, or a slightly different color. Davey was not happy with my purchases, except for one lure–the green pumpkin, paddle tail 4" worm on a black ¼ ounce jig head.

I also got some advice from a guy named Erik. He said something I never thought of being from Minnesota, the land of 10,000 lakes, and fishing them most of my life. "If it is a tough lake to fish Tom, get a guide." So, even though I had to swallow my pride and get out my wallet, I took his advice and got a guide. He was not the top-dollar guy, but I didn't care. He was in my price range. I learned later he taught the top-dollar guy how to fish, 50+ years ago.

The first stop: a submerged tree, where he knew there were crappies suspended at 10-14'. He was giving my son his favorite crappie lure. I had the 4" green pumpkin paddle tail worm on. Eight-pound test line. I made a cast. A fish hit three seconds after my lure hit the grey water. It felt like a good-sized walleye. I said "Nice…maybe a 5-6 pound walleye". That is because it was swimming towards the boat. The guide watched as my pole bent and the fish went down deep. He said, "That's a musky". "No way" I replied. With what felt like thirty minutes later, we somehow got the monster in the net. The line broke as the fish got into the boat. My son got it all on video and took several pictures. Sixty seconds later the fish was back in the water. It was the happiest moment of my fishing life.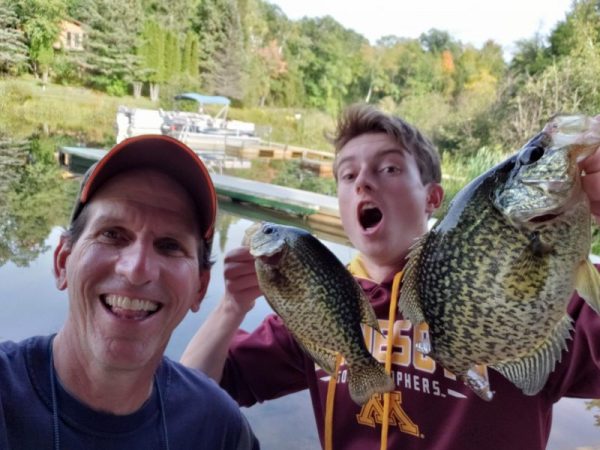 And it took a team to get me there. Do you tend to be a cowgirl or cowboy? Do you prefer to go it alone? I tend to be that way. But not this trip. I decided to take help and advice from at least four people. It took that team, of five, to put that beast in the boat.

In your work world what are you doing alone that you could be doing with a team? Are you getting the results you want?

Reach out for help. Find a coach or a guide. I would be honored to help you find the lunkers just waiting beneath the surface of your conscious world.

Be in touch and share a story of landing a big one with me if you can.